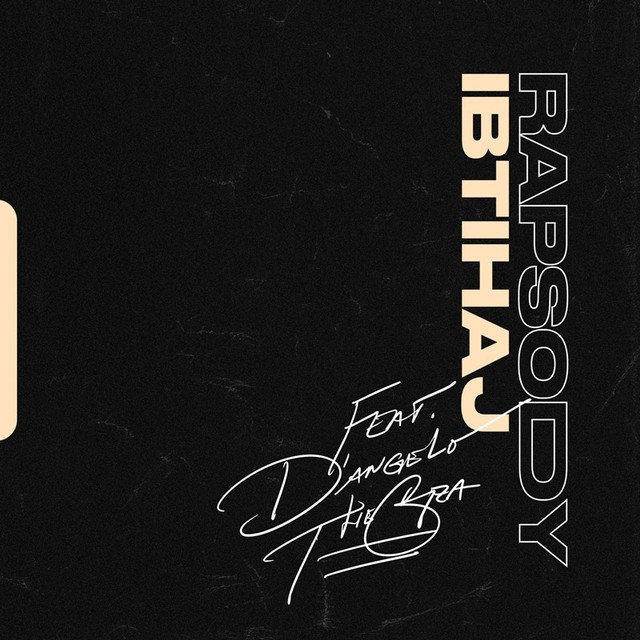 Ik ben drie weken te laat met mijn best of Q3-lijst en mensen zitten al midden in the best of de jaren '10. Een top-200? Ik zou een 10 x 4 x pak-hem-beet 150 = top-6000 van het decennium kunnen maken. Daar ga ik dus niet aan beginnen. Me dunkt dat je met deze top-159 van het derde kwartaal van 2019 ook wel even zoet bent, bovendien komt over dik twee maanden het laatste kwartaal er ook weer bij.
De top-156 van het eerste kwartaal vind je hier en de top-180 van het tweede kwartaal vind je daar.
Luister mee via deze speciale Spotify-playlist.
1. Rapsody featuring D'Angelo & The GZA – 'Ibtihaj'
2. That Dog – 'If You Just Didn't Do it'
3. Shannon Lay – 'Death Up Close'
4. Violet – 'Bed of Roses'
5. Eefje de Visser – 'Lange Vinnen'
6. Sault – 'No Bullshit'
7. !!! featuring Meah Pace – 'This is the Door/This is the Dub'
8. Rapsody – 'Whoopi'
9. Rosalía – 'Milionària'
10. Haim – 'Summer Girl'
11. Jimi Tenor & Freestyle Man – 'Are We it? (Alone in the Universe)'
12. Barnt – 'Local Fame'
13. Kim Gordon – 'Air BnB'
14. Céu – 'Coreto'
15. Sault – 'Living in America'
16. Fever Ray – 'I'm Not Done (Still Not Done Mix)'
17. John Coltrane – 'Blue World'
18. Frits Wentink – 'Space Babe'
19. Rosalía – 'Dio$ No$ Libre del Dinero'
20. Chance the Rapper featuring Nicki Minaj & Lil Durk – 'Slide Around'
21. P Money – 'Lyrics'
22. Automatic – 'Mind Your Own Business'
23. Kindness featuring Robyn – 'The Warning'
24. Axel Boman – 'Paid by the Rhythm'
25. Normani – 'Motivation'
26. Post Malone featuring Young Thug – 'Goodbyes'
27. TB – 'Night Heat (Gerd Janson Remix)'
28. Sleater-Kinney – 'Hurry on Home'
29. Ghostface Killah featuring Sun God – 'The Chase'
30. Robyn – 'Ever Again (Soulwax Remix)'
31. Romare – 'Danger'
32. Big Chief Donald Harrison Jr. – 'Old Town Road'
33. Future featuring Meek Mill & Doe Boy – '100 Shooters'
34. P Money featuring JME & KSI – 'Player One'
35. Róisín Murphy – 'Incapable (Crooked Man Pt. 2 Mix)'
36. Shannon Lay – 'August'
37. Sho Madjozi – 'John Cena'
38. Ariana Grande & Social House – 'Boyfriend'
39. Angel Olsen – 'Lark'
40. Bob Mould – 'I Don't Mind'
41. Brian Eno – 'Like I Was a Spectator'
42. Beyoncé, Jay-Z & Childish Gambino featuring Oumou Sangaré – 'Mood 4 Eva'
43. Woolfy Vs. Projections – 'Last Dance'
44. Kim Gordon – 'Sketch Artist'
45. Caroline Polachek – 'Ocean of Tears'
46. FKA twigs featuring Future – 'Holy Terrain'
47. Migos – 'Stripper Bowl'
48. Sex Judas featuring Ricky – 'Flaming Creatures'
49. Axel Boman – 'Konoba Boba'
50. Rhyw – 'Triangle Escape'
51. Bat For Lashes – 'So Good'
52. MLiR & Arnau Obiols – 'Lajbans (Bellaterra Dub)'
53. Young Thug – 'Jumped Out the Window'
54. Tripletrain – 'It's All For Youuu'
55. Bea1991 – 'Don't Touch My Freedom'
56. Gruff Rhys – 'Niwl o Anwiredd'
57. Lurka – 'Bodied'
58. Automatic – 'Signal'
59. Whigfield – 'Take U 2 the Top (Neana Remix)'
60. Nan Kolè – 'Off'
61. rRoxymore – 'Passages'
62. Free Love – 'Inner Revolution'
63. Traxman featuring Jana Rush – 'Wildcard'
64. Pugilist – 'Undulate'
65. Sofie Winterson – 'Be Bad'
66. Stormzy – 'Sounds of the Skeng'
67. Kero Kero Bonito – 'When the Fires Come'
68. Lennard Ypma featuring Alternative Tone Adjustment – 'No Portasound'
69. Chance the Rapper featuring MadeinTYO & DaBaby – 'Hot Shower'
70. XLNT – 'High Tide (Dr. Dunks Remix)'
71. Instra:mental – 'Pacific Heights'
72. Nérija – 'Unbound'
73. Tierra Whack, Beyoncé & Moonchild Sanelly featuring Nija – 'My Power'
74. Slayyyter – 'Tattoo'
75. Sleater-Kinney – 'Bad Dance'
76. Marika Hackman – 'Send My Love'
77. Prins Thomas – 'Feel the Love (Lauer Remix 1)'
78. MC Kekel – 'Pro Mandela Vou Voltar'
79. Mica Levi – 'Honguitos'
80. EarthGang, J. Cole, Smino & Saba – 'Sacrifices'
81. Vince Staples – 'So What?'
82. DaBaby – 'Bop'
83. Nan Kolè – 'Malumzi Nella Casa, Pt. 2'
84. DJ Lag & Okzharp – 'Nyusa'
85. rRoxymore – 'Someone Else's Memory'
86. Rapsody – 'Tyra'
87. Chloe x Halle – 'Who Knew'
88. S-Type – 'Gazelle'
89. Martyn – 'B.C. 2'
90. Neana – 'In My Room (Vengaboys)'
91. Kapote – 'Jaas Func Haus (Art of Tones Remix)'
92. Nan Kolè – '4 2 the Floor'
93. Future featuring Lil Keed – 'Undefeated'
94. Brandt Brauer Frick – 'Rest (Pearson Sound Remix)'
95. Caterina Barbieri – 'Fantas'
96. YBN Cordae – 'Broke as Fuck'
97. Young Thug – 'Light it Up'
98. Bibio – 'Spruce Tops'
99. DaBaby – 'Prolly Heard'
100. Para One & Arthur Simonini – 'La Jeune Fille en Feu'
101. Girl Band – 'Going Norway'
102. YBN Cordae – 'Have Mercy'
103. Forest Drive West – 'Time'
104. Crump – 'Charcoal'
105. Piezo – 'Waco'
106. Traxman – 'Osaka'
107. Mickey Pearce – 'Reflux Stance'
108. Oliver Coates – 'Industry'
109. Gruff Rhys – 'Annedd I'm Danedd'
110. Jaimie Branch Twenty- 'Three n Me, Jupiter Redux'
111. Alessandro Cortini – 'La Storia'
112. Brian Eno with Roger Eno – 'Strange Quiet'
113. Charlie Heat & Syd – 'Have a Good Time'
114. Burna Boy featuring Jeremih & Serani – 'Secret'
115. Ghostface Killah featuring Sun God & Shawn Wigs – 'Fly Everything'
116. Traxman – 'Pressdown'
117. Stolen Jars – 'Ghost Towns'
118. Donny McCaslin – 'Tokyo'
119. Robyn – 'Honey (Joe Goddard Remix)'
120. Bat For Lashes – 'Feel For You'
121. Florist – 'Celebration'
122. Bea1991 – 'Loser Wins'
123. DJ Lag – 'Rich Drop'
124. BFTT – 'I'
125. Lana Del Rey – 'Love Song'
126. Marika Hackman – 'Conventional Ride'
127. Object Blue – 'Fuck the Stasis'
128. Young Thug featuring Machine Gun Kelly – 'Ecstasy'
129. Konduku – 'Bolu'
130. Young Marco – 'Sacred Space'
131. Air Max '97 – 'Ice Bridge'
132. P Money featuring Lioness, DaVinche & Annabel – 'Get Over Me'
133. Pip Blom – 'Freckles'
134. Shura – 'Forever'
135. YBN Cordae featuring Meek Mill – 'We Gon Make it'
136. Young Thug featuring Lil Baby – 'Bad Bad Bad'
137. Kindness – 'Dreams Fall'
138. Slayyyter – 'Cha Ching'
139. O'Flynn – 'Aletheia'
140. A$AP Rocky – 'Babushka Boi'
141. JID, J. Cole & Vince Staples – 'Rembrandt…Run it Back'
142. YBN Cordae featuring Anderson .Paak – 'RNP'
143. Young Dolph & Key Glock – 'Baby Joker'
144. Benjamin Fröhlich – 'Secret Alphabet (Jex Opolis Remix)'
145. Bakongo – 'Goulbap'
146. Shura – 'Control'
147. YBN Cordae – 'Thousand Words'
148. Bobby Krlic – 'Fire Temple'
149. Pugilist – 'Descendant'
150. Camin – 'Duct'
151. Joe – 'Rio Lea'
152. Frits Wentink – 'Filthboi69'
153. Lost Souls Of Saturn – 'The Awakening (James Holden's Past Life Rave Regression)'
154. Gruff Rhys – 'Pang!'
155. M.E.S.H. – 'Dzonot'
156. Nérija – 'Swift'
157. Beyoncé – 'Find Your Way Back'
158. Chance the Rapper featuring Lisa Mishra & SWV – 'Found a Good One (Single No More)'
159. Mor Elian – 'Radical Spectacular'